Back to news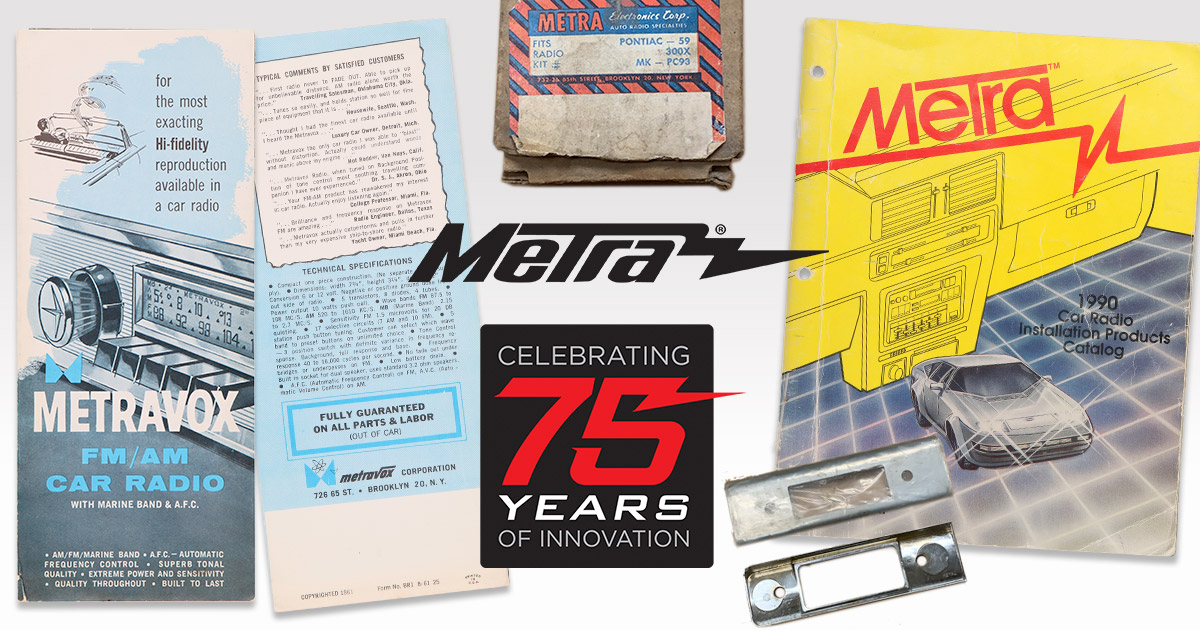 Metra Electronics® to Attend SEMA Show and Celebrate 75 Years of Innovation
Oct 13, 2021
Holly Hill, Fla. – Metra Electronics® announces that it will have two booths at the 2021 SEMA Show in Las Vegas, with booth 12141 in the North Hall and its off-roading and powersports products on display at booth 61041 in the West Hall. This year marks Metra's 75th anniversary in manufacturing and will be celebrated with a look back at Metra's car audio history on social media. As Metra Electronics releases new product announcements for the SEMA Show, it will also showcase a look at products from the past, celebrating both old and new innovations in the aftermarket automotive industry.
How Metra Electronics Started
It all began in 1946 at a little shop in Brooklyn, New York, with founder Michael M. Somma fixing and selling TVs and FM radios. Soon, they began creating FM radios specifically for cars under the name MetraVox and found a big demand for installations in taxi cabs. Taxi drivers spent their entire workday in their vehicle and now they could enjoy listening to the radio. Naturally, Metra's radio kits took off. This is where the business split into a new entity focusing entirely on car audio, called Metra Electronics. Metra manufactured complete radio installation kits that included wiring and harnesses, becoming a pioneer in the car audio industry.
A Change in the Industry
Up to this point, dealerships were a major customer, purchasing radio kits from Metra to install into vehicles before they left the lot. It was in the 1980s that things began to change and transition from OE radio installations to aftermarket. The Custom Aftermarket Sound Association (CASA) was formed and lobbied to make radios optional for car manufacturers. At this point, Single-DIN radios were in use and European models were becoming more prevalent. These models required a different dashboard to fit the standard Single-DIN radio, making installation challenging for all of the various makes and models on the road. Metra Electronics became one of the first to offer a solution, focusing on its support for the radio business by providing dash kits with the installation hardware and essentials required for aftermarket radio replacement.
Metra Grows Through the Years
In the 1980s, it became clear that Metra was outgrowing its operations, which now took up an entire city block with 100,000 square feet of space in Brooklyn, New York. The company needed to find a new home. In 1986, Metra's corporate headquarters packed up and moved south, settling in Holly Hill, Florida, where the company remains today. Several events helped contribute to the growth of the company, with Metra first attending the SEMA Show in 1980, becoming a fixture at the annual event. Recognizing the importance of developing relationships with face-to-face time, Metra's President, Bill Jones, took a motorcycle road trip through the United States in 1991, visiting its distributors and customers throughout the region.
In 1992, Mr. Jones realized that an organized training program was needed for an industry that was growing too fast. With no standardized methods for training or schools specifically for 12volt installers, he created Installer Institute in Holly Hill, FL. Since 1992, Installer Institute has graduated thousands of students and helped push MECP and MESA certifications. In 2016, the school became accredited by the Accrediting Council for Continuing Education & Training, and most recently had its 26-week program eligible for Title IV funding so that students could apply for federal financial aid to cover their tuition.
Metra Introduces New Brands
In the early 2000s, Metra grew beyond dash kits, creating Axxess® for vehicle integration and Tsunami® for car audio wiring and audio installation accessories. While Tsunami's brand name evolved into the T-Spec® and Raptor® product lines, Axxess remains a top name among professional 12volt installers. In 2003, Axxess introduced interfaces to retain the door chimes in Chevrolet, which became the start of a long line of products developed to accommodate the ever-changing vehicle technology seen in different makes and models. The Install Bay® brand was also created to offer all of a shop's hardware essentials in one place, becoming the largest product line in the Metra portfolio. To complete an aftermarket audio installation, Metra created Shuriken High Performance Batteries® along with Ballistic® sound damping. In 2014, Heise LED Lighting® became its premiere LED lighting brand, soon followed by iBEAM Vehicle Safety Systems®, AmmoTenna®, Metra PowerSports®, Saddle Tramp®, Metra Marine®, Daytona Lights®, and a product line of accessories dedicated entirely to Jeeps®.
In 2001, Metra applied its expertise in car audio connectivity to create Ethereal Home Theater®, a division specifically for HDMI® products and home theater systems. Today, this division has been rebranded as MetraAV® and has grown to include Ethereal®, Velox®, Spyclops®, and Helios® product lines. MetraAV is now known as one of the most reliable manufacturers for premium residential and commercial integration products.
75 years after introducing its first automotive radio kit, Metra Electronics will attend the 2021 SEMA Show to celebrate its innovations over the decades. New product highlights include a growing lineup of dash kits and integration products designed to bring upgraded sound systems into older and newer vehicles. Metra will also showcase accessories and lighting packages designed for Jeep® Wrangler and Gladiator, new RGB and RGBW lighting kits, redesigned LED lightbars from Heise, and new monitors and cameras from iBEAM. In the off-road/powersports booth, attendees will see universal audio products plus audio accessories designed specifically for Polaris® and Can-Am® UTVs. Daytona Lights will also expand its value series of LED lights, doubling its product offerings. For motorcycles, Metra's Saddle Tramp® brand will introduce new audio installation products and lighting accessories designed to fit Harley-Davidson®. Product announcements will be released with more details closer to the show.
About Metra Electronics®
At Metra, 12volt installation and integration is our passion. We strive to continuously offer the highest quality products to meet the fluctuating technological challenges of the automotive world. We actively listen to our customers' requests and invest resources in developing the highest quality dash kit and harness solutions. We make dash kits for more vehicle applications than anyone else in the world. That's why we've been known as "The Installer's Choice" ® for more than 75 years. Our other brands include: Axxess®, T-SPEC®, The Install Bay®, Heise LED Lighting Systems®, iBEAM Vehicle Safety Systems®, Shuriken High Performance Batteries®, Raptor®, Ballistic®, AmmoTenna®, Metra PowerSports®, Saddle Tramp®, Metra Marine® and Daytona Lights®. Metra's expertise in connectivity solutions is also applied to its division of premium AV and surveillance products from MetraAV™. For ordering information and pricing, visit Metra Electronics online at MetraOnline.com or call 386-257-2956.